1
Ain't She Sweet Out Now and Longing for Love on Sale
Ain't She Sweet Out Now!
Get Charley and Tyler's story today and catch up with everyone in Butler, VT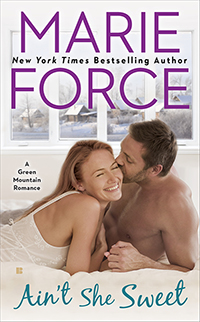 Charlotte "Charley" Abbott has gone out with every guy under thirty-five in Butler, Vermont—except for one. Tyler Westcott's attempts to date her may be determined, and frequent, but Charley can't stand how he acts like he knows her better than she knows herself. So when Tyler turns up at the running club Charley joined to train for a marathon, she's almost ready to quit before she even gets started.
Tyler knows that behind Charley's prickly personality and dismissive attitude is a sweet woman he wants in his life. And when Charley suffers an injury while training, Tyler is ready to prove that the perfect man for her has been right there all along…
Read the first three chapters.
Get the ebook:
Get Ain't She Sweet in the UK, South Africa, New Zealand and Australia:
Print:
The publisher informed us last week that the audio version hadn't been recorded. We are working to get that rectified ASAP and will let you know when the audio edition is available for purchase. We apologize to our audio customers for this unfortunate oversight on the part of the publisher.
Longing for Love is 99 Cents for a Limited Time
Get Blaine and Tiffany's steamy story on sale today!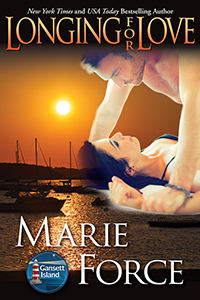 Series favorite Tiffany Sturgil steals the spotlight in Longing for Love as her new boutique Naughty & Nice opens in downtown Gansett, right in time for the annual spring Race Week festivities. Finally divorced and ready for a new beginning, Tiffany wonders if sexy Police Chief Blaine Taylor thinks of her as often as she thinks of him since their explosive encounter last fall. Back then he directed her to call him the second she was officially divorced, but the opening of her store and her unconventional advertising "campaign" have put the island's lingerie queen at odds with the town's top cop. Despite their clashes, when these two finally get together after months of steamy build up, readers will need to keep a fire extinguisher close at hand!
Blaine has been burned in the past by love affairs gone wrong, and he's wary about risking too much too soon. But he quickly discovers that Tiffany's sarcastic rejoinders and bitter outer shell hide a badly wounded heart of gold. He also discovers she's a "sex-toy fraud" and convinces her she can't possibly sell the merchandise without trying it out first… While he finds himself thinking of her all the time, the mayor is after him to curb her sexy advertising and his mother worries that Blaine has taken on another "project" who will break his heart.
As Blaine and Tiffany fight for their happily ever after, readers' favorite characters from past books are back for more island adventures. Joe and Janey return to Gansett for the summer and discover the big secret his mother has been keeping. Evan learns that Grace hasn't told her parents about him. Stephanie's restaurant is ready to open in the renovated Sand & Surf. Dan keeps showing up to "visit" Kara at work, Mac is worried about Maddie's upcoming meeting with her deadbeat dad and a Race Week catastrophe reminds everyone what's really important.
The McCarthys of Gansett Island takes a decidedly erotic turn in this seventh book! If hot, sexy men in uniform cavorting with hot, sexy women who sell sex toys for a living aren't your thing, this book might not be for you!
Get Longing for Love for 99 cents here:
Preorder Desire After Dark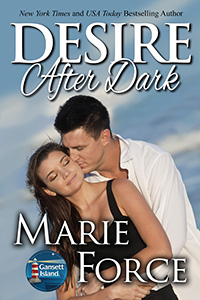 Tobias "Slim" Jackson has the perfect life as a pilot on Gansett Island in the summer and in Florida in the winter. He's happiest when he's in the air, or at least that was the case before last summer when he met Erin Barton, Gansett Island's newest lighthouse keeper. Now he can't seem to find his usual enthusiasm for flying, winter in the sunny South or anything that doesn't include her.
Erin has been stuck on pause since she lost her twin brother. She'll tell you herself that her life has been a hot mess since Toby died. After dropping out of law school, she's flitted from one pointless job to another, existing rather than truly living. Then she comes to Gansett Island to take over as the new lighthouse keeper and meets Slim, who happens to share her beloved brother's first name. That small coincidence is enough to convince Erin that she needs to spend more time with the dashing pilot—except for the fact that he's spending the winter more than a thousand miles from her.
Now Slim's come home to Gansett for the holidays and to hopefully pick up where he left off with Erin. He's got twelve days before he's due back in Florida to finish out the remainder of his winter obligations. A lot can happen in twelve days, but will it be enough to convince Erin that it's time to start truly living again? Read Slim and Erin's story and catch up with the rest of the Gansett Island cast in Desire After Dark!
Preorder Desire After Dark:
For Kindle readers, go here to find out more about how to get Desire After Dark on release day.
More preorder links coming soon!
Get Desire After Dark in print at Amazon or order a signed copy from Marie's store.
Help Marie spread the word about Desire After Dark by sharing her message on your social media. Click here for details. Slim, Erin and Marie can't wait for release day!